How to Effectively Build Your Email and SMS Marketing Funnel - Privy | EP. #41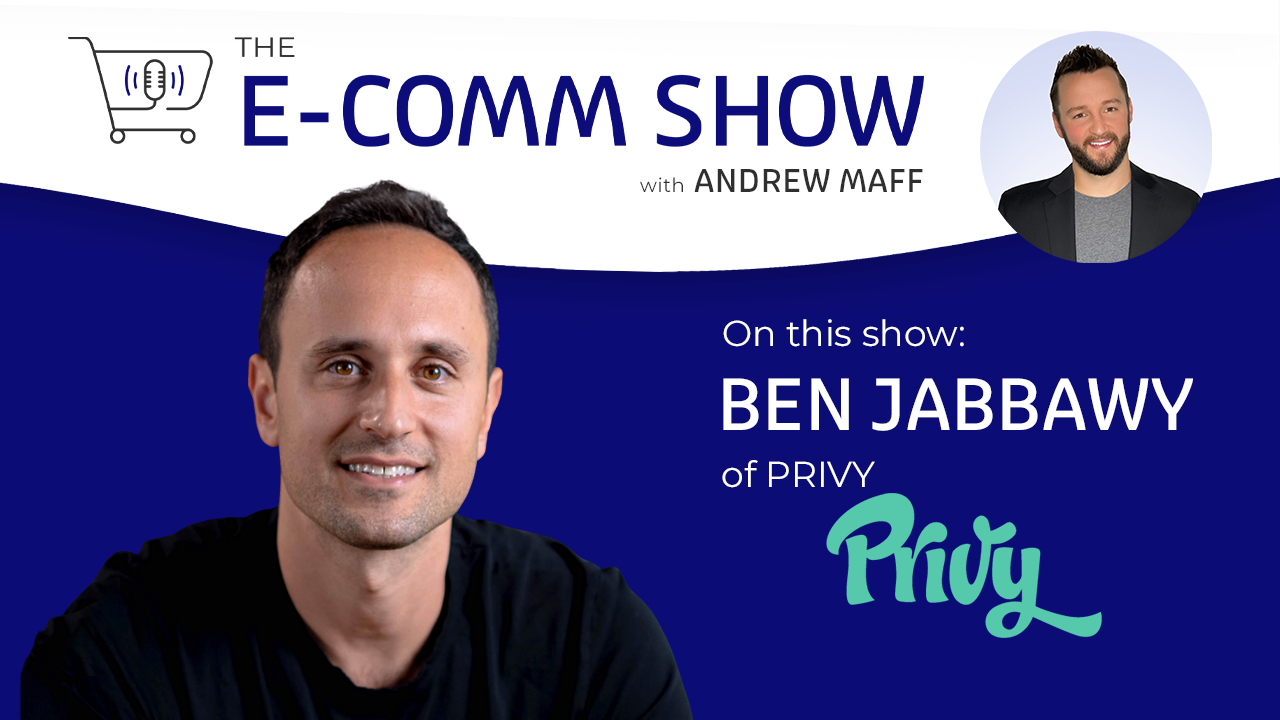 On this 41st episode of The E-Comm Show, our host and BlueTuskr CEO Andrew Maff is with Ben Jabbawy of Privy, the leading all-in-one messaging platform for small and mid-size Shopify brands. For over a decade, Ben has mastered the marketing funnel from emails to SMS and pop-ups and in 2021, Privy was finally acquired by Attentive.
In this episode, Ben shares his expertise in building an effective email and SMS funnel, how to optimize every touchpoint in the buyer's journey, and finally, how to set your brand apart from competitors.
Tune in and enjoy today's E-Comm Show!
If you enjoyed the show, please be sure to rate, review, and of course, SUBSCRIBE!


Have an e-commerce marketing question you'd like Andrew to cover in an upcoming episode? Email: hello@theecommshow.com
---
How to Effectively Build Your Email and SMS Marketing Funnel
SPEAKERS
Andrew Maff and Ben Jabbawy
CONNECT WITH OUR HOST: AndrewMaff.com | Twitter: @AndrewMaff | LinkedIn: @AndrewMaff
Ben Jabbawy
Ben is the founder and CEO of Privy, the leading all-in-one messaging platform for small and mid-size Shopify brands. In 2021, Privy was acquired by Attentive.
Transcript:
00:03
When I first started the business I underestimated how much time would need to be spent thinking about privacy and staying five, six months ahead of regulations related to privacy. Hey everyone this is Nezar Akeel of Max Pro.
00:19
Hi I'm Linda and I'm Paul and we're Love ann Pebble. Hi this is Lopa Van Der Mersch from RASA
00:24
you're listening to and you're listening and you are listening to The E-Comm Show.
00:34
Welcome to The E-Comm Show, presented by BlueTuskr, the number one place to hear the inside scoop from other e-commerce experts. They share their secrets about how they scaled their business and are now living the dream. Now, here's your host, Andrew Maff. . Hello,
00:54
everyone, and welcome to another episode of The E-Comm Show. I'm your host, Andrew Maff, as usual, and I am joined today by the amazing Jeff Bezos. I was gonna do it. Ben Jabbawy of Privy. Ben, how are you doing right for a good show.
01:08
What's up, Andrew? Great to be here. Yeah, I'm doing well, man to catch up.
01:13
This is gonna be great. So I'm super excited to have you on the show. I've been a big fan of Privy I've, at this point I've worked with you guys for Wow, you started in 2010 and 2011. I think you joined the Shopify app store, right? Yeah. Probably wasn't too far behind in that when I met you guys. So I've been along for the entire journey. And it's been quite the journey. You guys have gone from essentially, basically just catering to mostly like, well, I know you did some, some brick and mortar. But then you also like, Did you were like the leader in pop-ups. And now you've got all this other stuff going on. So why don't I give you a second here and just kind of let everyone know a little bit more about proving yourself and your story?
01:58
Yeah. So it is a long story. It's funny to like, have been doing this for 10 years. It's crazy to think about that. But today pretty is focused on small and midsize e-commerce brands. And we're an all-in-one messaging suite. So that's website conversion, email marketing, and SMS. You mentioned our roots were in less growth. So there was a point in time I think I actually like built our first website on Squarespace. And, you know, we used to just say like the tools you need to grow your list. So that was where we started. And then our support model and focus on small businesses have evolved into the all-in-one messaging suite. And today, we're about 80 employees on the previous side. We serve over 100,000, Shopify stores, a bunch of big commerce bunch of Wix commerce as well. And we are part of the attentive company as well. They acquired us about a year ago now.
03:01
Nice. So what was that whole move for what was Why go through the acquisition? And it wasn't to expand obviously, the offering or what was the thought behind that?
03:14
Yeah. So the acquisition
03:18
happened June 2021. Which I think was yes, yes. That's right. We're still in June. It was a fascinating time and e-commerce right like everyone felt the bumps from COVID the acceleration of E-commerce certainly SAS for E-commerce felt that pervy benefited from that as well. And you know, that was like the macro around us the other things in this ecosystem that were happening were, you know, Clay vo was raising tons of money. Attentive, I don't know, if you remember seeing it almost felt like every other month, there was like a 50 to several 100 million dollar funding announcements. I remember seeing a tentative funding announcement. And I was like,
04:01
Whoa, like, pretty, you know, we weren't a
04:05
the bootstrap company, we had raised $10 million. But we were kind of in a way like competing with giants in that respect. And so we ended up getting just a bunch of inbound interest at that time. And attentive pitch to us was really incredible for me as a founder, because their pitch was hey, like, don't worry about fundraising. You know, we're successful with that we've got tremendous resources. And we just want Privy to focus on small business and support customers, you know, in the way that we have to continue to do which lines up very well with the attentive service model. And like, for me, that meant that I got to get rid of basically half of the job that I didn't love. I don't think anyone really loves fundraising and focus 100% of my time on the stuff that I do love, which is working with customers and working with my team. So it was awesome. And then, you know, the other kind of half of the pitch was we'll actually get to use those resources to grow our team in a market and in a way that we couldn't have done otherwise. Right. So you know, it's been amazing, and they've really stayed true to that even after the acquisition, fully supportive of
05:31
the direction of Privy from like an
05:34
outsider's perspective, it really kind of looks like, you know, the acquisition went through, but pretty maintained, like, you know, there was no real, there wasn't a rebranding, there wasn't everything got blended under a tentative like there was nothing out crazy from an outside. Is that kind of the same case internally? Or is that a plan as time goes on? What's the, what's the merge looking like? Yeah,
05:57
I mean, the things that have changed, like, we definitely built a much tighter integration between the list growth tools, and attentive, there's a lot of a lot more synergy, like we are kind of introducing the attentive platform to some of our larger customers. And that's done really well. But the Privy company, I mean, I'm still running it, I have autonomy and doing that. I think like, we have the resources, the team still intact, nothing has really changed, except that like, attentive, just as a company, and I'm not trying to show them, like, they invest in their people. And so we've actually, like, we've been able to, like pay our people better, better benefits, like they're, you know, so we still have that small company feel within a much larger entity. And also, I think what's really interesting is that, when you're an independent company, your strategy changes quite a bit in the early stages. Right. And but now as part of attentive, like, it's very directives are very clear, because they support mid-market and enterprise. So there's no one around the room saying pretty you got to move, you know, abandon small business because like, it's hard for small business and you can make more money. Yeah, it's just like not privy is messaging for the small business day there. Get better at that. And don't think about anything else.
07:28
It's cool. Yeah. You brought up
07:32
your one of your main competitors earlier, so I feel safe to bring them up. So Clay vo obviously, is being kind of the big one. The big guy in the space, the Green was green anymore. Yeah. What, uh, how do you kind of see the differentiators between Caribbean Klavier?
07:51
Yeah, I have so much
07:54
respect for them. I met Andrew a bunch. I remember we had beers very early on in Boston, great guy, Ed, co-founder, they're just like, incredible team, right? I think we're doing different things for different people. CLEVER has a fantastic product. It's an enterprise product. Right? Like, their API's, you know, their level of segmentation, their customization, like, permeate, that's not what Privy wants to be like, I think there are so many brands that need that. They love that. And they expect that. But like, don't forget that, you know, probably 1.5 million of Shopify stores are founder-led, right, and so like, they don't need, you know, a Mercedes, what they need is a Toyota with like, a great service model. And that's what previous mission is, like, we want more entrepreneurs to cross, you know, a million in sales like that's like the elusive mark. And so our model is like, we want to be the best at supporting our customers. And so that means, like, our live chat experience, right, less than a minute, during business hours. Yeah, we give people calls, like, we just do things that other vendors don't, doesn't matter CLEVER or otherwise. And so, like, our email marketing product is never intended to be like, enterprise level. It's just, that it's going to be the basics that you need with incredible support.
09:29
Yeah, I'd say,
09:31
kinda bro brought it up. Because one of the things I was thinking about, like, you know, I use both platforms for a lot of different people we work with and you know, kind of go in and out of them and kind of have preferences for some others. And one of the things has always been just absolutely mind-blowing to me that you guys have done since almost, day one, I would say is your customer support is is is incredibly impressive. From like, if we're comparing apples to apples right now we're talking about Klavier like, I can't get a hold of anyone there unless I talk directly to my rep there. Whereas if one of our clients wants to get a hold of someone, it's a nightmare. For you guys, you were responding in less than a minute during business hours to think you have until like nine or something. Yeah. For, for a business like yours, especially in my eyes, where you're, you're working primarily with, as you said like the founder-led Shopify owners, they're going to have more questions consistently, because there's a lot of training involved, especially when you're first starting out with a business. And it's really impressive that you guys have customer service that can respond that quickly and be that attentive, no pun intended, to be able to actually help these sellers out that are basically just starting off and kind of getting their business going. So it really is incredibly impressive. How did you manage to put all that together? How big is your service team?
10:52
It's one of our largest teams. I mean, we're 80 plus people, I think that team is probably in the mid-30s. Now, in different functions, we have live chat reps, we have onboarding reps that give you a 30 I Sorry, one call, or two calls, depending on the plan, and size of your business. And then we have dedicated customer success managers that manage our largest customers. And
11:21
this came to be because I was sitting
11:25
in a room with our developers early on, doing the support, and doing the live chat, even for our users. And I was like,
11:36
This is gold for us, you know, because
11:39
A, it may change their trajectory as a business, if they like, understand a concept better in our product, or use a different campaign type in a way that they hadn't figured out on their own right, which is like, obviously, you want a beautifully self serve product, but like that's a myth. You know, if you just rely on self-serve and documentation, like, Yeah, some people will fish for themselves, but like, you gotta be there, right? There's a little bit of context. And so I saw the impact that can have on a merchants trajectory on a merchant sales, but also what that did, they're like, oh, wow, like, we just got a response quickly, we never get that, you know, and because they're used to dealing with vendors that aren't built that way. And so I can't take credit for it, the team we brought in, that runs support that runs customer success, like, you know, that's what makes pretty special. And time and time again, I think, like, I don't think anyone's out there being like, Oh, we got to like, you know, go against privee, or anything like that. But I think the thing time and time again, that that has helped us scale to where we are is just like, it's a simple equation. It's, it's a relatively easy-to-use product, with great support. That's it, there's no AI, there's no magic to it. And
13:04
it's been a big part of our story
13:07
is incredibly impressive, especially just the thought process of having someone respond that quickly. It's there are not a lot of apps or software platforms, anywhere that you get that kind of customer service. That's impressive.
13:19
I agree. I do have one, follow-up thought on that too. Like I think over the past five years, I know this is the EECOM show, we're talking about Sass, but in the past five years, there's been a move to like to introduce chatbots. And so I think a lot of brands, or, you know, marketers in this space, are using software vendors that have a chat option. And the first thing that comes back is, oh, is this what you were looking for? Click here to like, do it. It's a chatbot. Right. And so like software vendors do everything in their power to like drive efficiencies and support, as opposed to like, engage, and I like engaging better.
14:01
That's a good point.
14:03
So I guess kind of with that. So you know, there's been so many changes since previz. Started right? And especially from just legality or attribution and all that different stuff like you had Google start hurting people with pop-ups that were on mobile that was taken up the full screen, you have GDPR stuff going into place. You have obviously iOS now that's limiting tracking and for email and a lot of other stuff. How is it? You guys are kind of changing with the times as those rules go into place? And then also, where do you think that it's going to end up going?
14:39
Yeah, that's a great, great call.
14:43
Yeah, I think when I first started the business, I underestimated how much time we need to be spent.
14:51
Thinking about privacy,
14:54
and staying, you know, five, six months ahead of, you know, regular Leyshon related to privacy.
15:03
I think that all
15:05
happened for the right reasons. And I think the industry is better off for it. But I think it created a lot of noise and changes in behavior, that
15:16
have kind of diminished
15:20
consumer experiences on websites, you know, because you got accept cookies, you got a top of the funnel, email capture, you got a lot of stuff now. So it's a little bit unfortunate, but
15:30
we, you know, there's,
15:33
there are a few things that drive our roadmap, customers, customer requests, but also regulation and privacy, and you got to just, you know, part of your DNA as a business needs to be watching that stuff and getting ahead of it. And so like, we have made significant changes over the years, for each of the things that you've mentioned. But I think all in, it has just driven everyone back to a spot where they say, you know, what, there's nothing more valuable than building, you know, zero party data are, you know, in simpler terms, just information that you are asking and collecting about your own customers that you own. And that's probably the single best thing you can do as a brand, to combat any future changes that may arise on the social networks or,
16:32
or anything like
16:34
that, I mean, a lot of the rules and things that are getting put into place, like I definitely understand how it's while it's a pain to deal with when they first happen, whether obviously, from your perspective, or from a brand's perspective, you know, it's, it's a pain, but at the same time, it is most likely improving your customers experience. So while it's giving you a headache to get it done, it is usually helping out in the long run. And if you're missing out on data and stuff, as you know, well, that means that you need to stop relying so much on upon and just look at the picture and listen to your customer more. So it makes a lot of sense. But have you started to you know, because you guys have been doing this for so long? And now you've gone from popups to email, and SMS and you're you keep expanding? Do you have kind of a general guideline around how many touch points for a customer when you're speaking to one of these brands? Like how many times you should be hitting them with a pop-up? How many times you should be emailing him or shooting a text? And like, do you guys advise on that? And what does that usually look
17:32
like? Yeah, so we
17:34
definitely have opinions about that stuff, a lot of those opinions are baked into the product. But you know, you can always get yourself into trouble. And a lot of the regulation is baked into the product for you. Because it's impossible to ask people to keep up with these regulations, you got to just trust that the SAS solutions, you put in place do that for you. So my I've got like a long-term take here. My long-term take is that as SMS becomes more prevalent between marketing, marketers, and consumers, I think what's going to happen is like when you opt-in, to a pop-up or form or to a brand or whatever, like, you're just going to choose, are you do you prefer email? Or do you prefer SMS? And I think the SAS platforms will kind of abstract channel choice away from the user of that software, like the marketer or the brand owner just wants to get that message to that person.
18:45
Right. And hopefully,
18:46
that's a relevant message. And like, they shouldn't have to choose what channel they're doing that through. Right? And like, yes, there should be unified, like opt-out across channels, and different like all that stuff's great. But that's kind of like my vision of where things are headed. And I think that email and SMS will start like, inbox management will look more similar across both right, there's already a lot of talk about that. So I think we're trying to prepare for a world that looks like that, where you're orchestrating around customers and conversations that you're trying to have with customers, and thinking less about which channels you're doing those through. But near term, like, you know, I think you need to try to capture an email for loyal or middle or bottom of funnel folks. We've seen tremendous success with SMS and click-through rates and order rates from SMS. So I'm a big believer in that. But I would still say today that your SMS list should probably be like 10 to 20% the size of your email list, just because like not everyone wants it. Yep, that's true. Do
19:59
What's your
20:00
stance on the SMS side of things like with how often you suggest sellers to actually use that, because I've seen that get wildly abused, and customers get very frustrated because they don't have you know, you can text stop and all that fun stuff. And sometimes that works. But sometimes you'll get sellers, it'll just put them back in there and keeping keeps messaging I'm like, What's yours? What's your process on that? Make sure you're not annoying people too much.
20:26
Yeah. I love
20:29
SMS around automation. So cart abandonment,
20:34
post-purchase, and you just
20:37
opted in, right? Like, here's the code that you signed up for, or whatever.
20:41
I love that.
20:43
I think that if you get in the habit of sending a once a week, call it just a text blast. I think that's not and that blast is basically the same content as your email. I think that's the problem. What I do love about like a one-time send of text is what I would call that early access concept. Or, I'll give you an example of one that I just absolutely love. Right now one of our customers Cove
21:14
Essentials are doing this. And she,
21:18
when she launches a new product, or if she's got supply, that's kind of not up to her QA standards. She wants to sell those products, right? So she sends a text,
21:30
you know, a few hours
21:31
early, is the only type of discounting she does. And she only sends it through text first, right? So she sends it to text, she says heck, do a sale, I've got some product, it's not perfect. It's a final sale, and it's marked off. So like, you're getting first access because you're on SMS, right? And that's legit. And then like maybe the next day, she sends an email and says, Hey, there's a little bit leftover, if the one you want is sold out, it's because I offered to SMS first. And like, here's the way to join my SMS list. Like, I love that or new product drops where you're giving it to SMS first. I think beyond that like you got to just stay away from that habit, of just sending the same thing to both channels. It's not like posting on Instagram and Tiktok it's really not. So for automation on SMS, I'm huge. I think, even in my personal life, I'd prefer to get that instant tax after I make an order or get the card abandoned. Like, that's perfect. And then I think it's very, you got to be very true and like treat it like a VIP access thing for anything else.
22:38
Yeah, that's a great explanation to it some great insight, because basically, like, it comes down to you need to be providing value, right? So if you're just shooting them a text with, Hey, we're having a sale, we know you're everyone's having a sale at all times, you could have emailed me that I didn't need that. But if it's a hey, I'm going to have a sale, but I want you guys to get you to know, you get in first, then that it makes a lot of sense. And then obviously post-purchase and all that, you know, those are there but it's it is that I would definitely say that's probably the smartest way to do those big blasts.
23:12
Yeah, the other. The other great category of tax, I just got off a call with Joanne coffee. She's the retention marketer for Jones or beauty like a really hot DTC brand right now. The way that she started using tax was just very informal pictures of them in the warehouse, or like, you know, behind the scenes stuff, you know, just like a little bit closer, making it feel like you're more connected, right? Like, that's a great category of text to be sending that, like, you're not really going to do that and email to like 100,000 contacts, but like, you might do it to 1000 people on SMS. And you might also be sending them early access stuff. So, you know, I think there are pockets where you just got to come up with content that fits better for SMS. And is different not just to be different. And because everyone says that, like that's the reality of it.
24:19
Yeah. What about from like a personalization standpoint, right? Like you obviously like, especially with Privy, you have a pop-up SMS email. So now you're getting all this data at basically every line of communication that someone might be having with their customer. At what level are you? Do you suggest people personalize it based on the individual kind of like you would within a CRM, you can actually go in and see every little thing that that one person's done and the conversations and all that like is that something that you feel a lot of sellers should start to lean into is leveraging the data that they're bringing in?
24:56
Yeah, I think there's
24:58
a few ways to think about personalization, you know, just to like really make this tactical for
25:03
people. There's the fact that you
25:08
through software recognize what similar groups of people are doing. And that triggers a message or a pop-up or, you know, automation, right? That's automation, right? Or flows, whatever you want to call it. Like, that's a level of personalization, right? Sending a cart abandonment, email is unique to the people, group of people that have been, like, that's one level, that's my, that's what I love. I love that stuff. And, you know, I think if it works for you, it creates more opportunities to get in front of them with a relevant message, because you know, exactly where they are in the journey.
25:46
So I love that the personalization stuff
25:53
that, you know, like, the other category of it is, like, you know, merge tags and different things like that you're including in your message.
26:00
You know, I like that.
26:05
I think that where that matters the most is at the top of your funnel, like your welcome series, right? If you can through a quiz, or, you know, through knowing what product or what page or what ad they were referred from, make some inferences, like, that's the place to use it. Right? Like, oh, this is a male, or this person showed interest in, you know, T-shirts, as opposed to jeans, like the welcome series should reflect that. And so you may want to think about like, not overcomplicating it not having one welcome series per product, but like, per category, maybe or per gender, or poor per key attribute, like, I think you just need to simplify like, what is your approach to personalization, and I think if you're capturing, you know, the five to 10, core automation, that you want to be thinking about, both on the website, and through messaging. And then in your welcome series, specifically, having like one or two, you know, noticeable differences on the content that you're putting in front of them based on interest?
27:13
Like, I think anything beyond that feels like overkill to me. Yeah,
27:20
that was my question is like, Where? Where do you think that line is drawn? Because I've seen it get creepy is the best way to put it, like, you know, you can land on his site, and the landing page has your name on it, or, you know, I know, like you can all I've also know that like marketers are notorious for finding out a cool thing that works, and then just beating it to death until the customer doesn't like it anymore. And I feel that same way with like merge tags and personalization, especially with emails because putting, like, Hey, the first name and leaving it that way, and doing it for every single email, it's kind of it feels disingenuous after a while. So it does make sense that you would say like, your welcome series, like welcome, Ben, welcome, Andrew. And then from there, it's like, Hey, this is just, it's this is how we do stuff instead of creepy, actually, you know, always adding their name and every page that they go to and stuff
28:15
I do, what's your thought?
28:18
I don't think that level of personalization adds value. You know, what's more, valuable is having an 80%, you know, accurate guess of where they are and what they're trying to do and making it easier to do that. And the way you accomplish that is, is automation and segmentation, not like hyper-personalization,
28:43
Do you know? Yeah. Ben is awesome.
28:47
I don't want to take up too much more of your time. I know you guys are super busy over there. I would love to give you a minute here. Tell everyone knows where they can find out more about you and obviously pretty.
28:55
Yeah, awesome to be here. Thanks, Andrew. privee.com privy find us in the Shopify app store. If you'd like to do tactical stuff, I've got a podcast that I do call the E-commerce Marketing School. And I've got grace. Great guests like Andrew. Just got off with Joanne's coffee of John's wrote many, many others. So thanks for having me on Andrew. And thanks, everyone for listening.
29:19
Appreciate. Thanks for joining Ben. Everyone else who tuned in, obviously, thank you as well for joining please make sure you do the whole rate review, subscribe, and all that fun stuff on whichever channel you prefer YouTube, or just head over to eccomshow.com and figure out whatever podcast platform you like. But as usual, thank you all for joining. We'll see you all next time. Have a good one.
29:37
Thank you for tuning in to The E-Comm Show head over to ecommshow.com to subscribe on your favorite podcast platform or on the BlueTuskr YouTube channel. The E-Comm Show is brought to you by blue tusker, a full-service digital marketing company specifically for E-commerce sellers looking to accelerate their growth. Go to BlueTuskr.com Now for more information. Make sure to tune in next week for another amazing episode of The E-Comm Show.